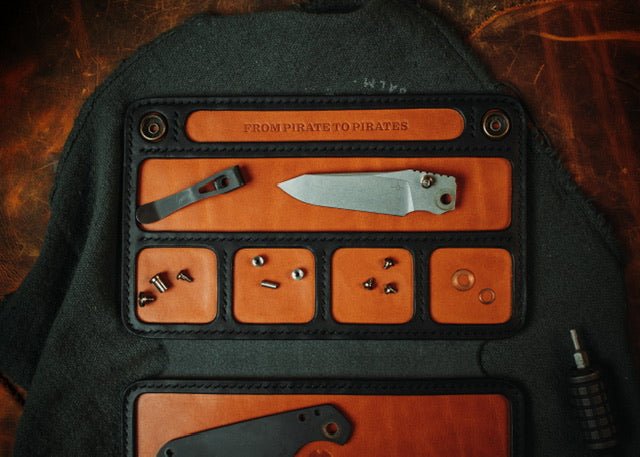 So what's are done on that particular moment?
Design is finalised (Changed manufacturer of the snaps);
Custom boxes already at the workshop;
Custom stickers are done;
Have a bunch of magnets.
What's in process?
Ordered a huge pack of leather, should be here somewhere in the mid-late November;
Box inlays should be cuted by laser and delivered next week.
What's still need to be done?
Need to finalise a design of instruction manual and then find some good paper for it.
So yea, looks like I'm on the finish line to drop the Shipyard. I can even say an estimated day of drop, I have 2 actually, or December 4th, or December 11th. Presumably 4th, but I will let you know for sure in a few weeks!
For those who missed and firstly visited Pirate Goods blog, what is the Shipyard? If shortly the Shipyard is a "folding leather desk pad for knives assembling". It has magnets on the top 4 pockets to hold securely screws, springs, and all kind of small details which is usually easy to loose. Bottom part also has magnets to hold 4 of your favourites bits (1/4 or 1/8). All other pockets is your working space!
During optimisation of the making process I'm just dived deeper and only increased the time to make one. For now it takes almost 2 days to make a perfect one. But hey, it looks awesome in final and I'm for sure satisfied during the process. So it definitely worth the time. 
Next one, I will have 3 colour choices, Black body & Tan working space, Olive body & Black working space, Caramel body & Black working space. I will show you all them in a few weeks. 
The final price isn't ready, but it should be about 420-470$
Also I need to prepare few more extra things which I will keep in secret to have a bit of intrigue. And to give some satisfaction during unboxing process for you guys ;)