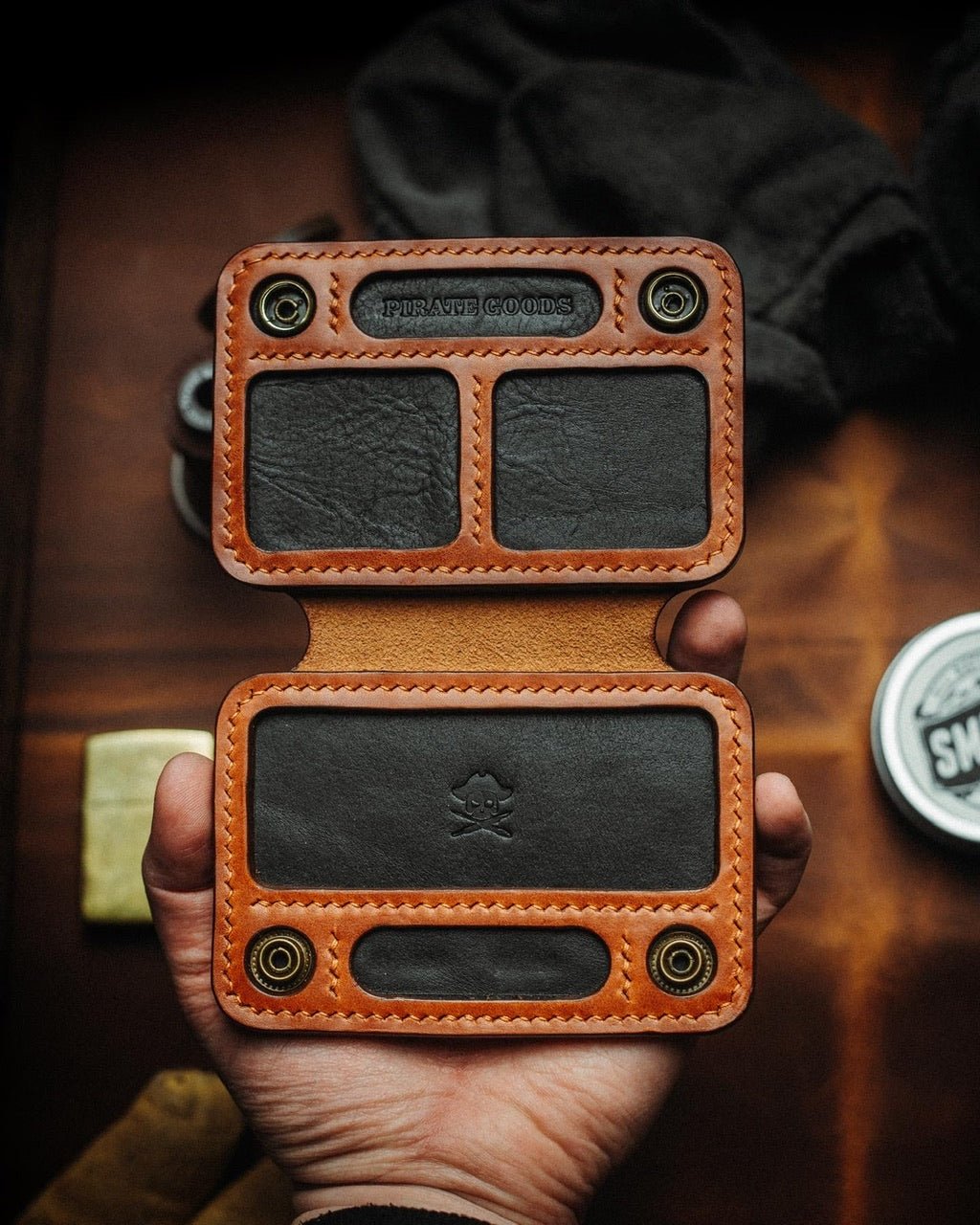 I should say that this is the most hardest and longest project I've ever made. This device is leather assembly pad that have few divider places to help you making any type of repair work with your gear, such as knifes, watches, flashlights, pens, and any other gear that have some small parts that you can loose somehow.

Lets take a close up look on this assembly pads. 
The Shipyard

Top side
On the top we have thin pocket with "Pirate Goods" logo, it's a small pocket for some long parts of your knives such a clip, backspacer or thumbstud;

On the top corners we have a snaps which are installed on the 2 layers of leather deeper, the goal is when the Shipyard is closed you haven't any gaps between both sides;

On the middle we have a long pocket where you can place the blade, clip or main frame parts. This pocket is 3 layers deep;
⠀
4 small pockets in the bottom of top side is my favorite part tbh, each of this pockets has a magnets inside, they covers almost 100% of the pocket. So the main goal of those pockets is to hold any small pieces which you can easily lost on your desk such a screws, springs and any small spacers, those pockets will hold them securely. Each pocket 2 layers deep.

Now let's go to the bottom side.
Most of this side is covered by a huge main pocket, or how I called it "main work area", this pocket is your work area, there is a lot of room and this pocket is also 3 layers deep, so you can work in it and placed some bigger parts of your knife such a scales and main frames;
⠀
On the bottom we have a same as on the top side small long pocket, but this one is much interesting, it's also has magnets, 4 small magnets, each 10x5 mm, the goal is to hold your 4 most necessary bits (1/4 or 1/8) and the main thing that you can closed the pad and bits will sits perfectly;
⠀
On the corners we also has another side of the snaps.
The Shipyard Mini
The Shipyard Mini is a smaller brother, with same functionality but few times smaller. Two big magnet pockets on the top, one big pocket on the bottom side and also little bits compartment which can hold 2 bits. This model should fit in Maxpedition mini or bigger, so you can have this assembly pad in your repair kit in one pouch.
In final

That's it, of course the Shipyard is created as a multifunctional tool, you can do any type of maintaining work with any tools or gear, knives, flashlights, pens and other. Hope I've explained all of the details :)
This product will be released later this year, as you know all my road map is fucked up after russian invasion to Ukraine, so as soon as we will win this war (with no doubt), I will back to this project. 
The final step will be ordering a coolest package from Ukraine based manufacture, this days we should support local companies as much as we can. I'm still not sure is this product will be released as a "ready made" or "made to order", each Shipyard need a lot of leather, set of magnets and damn a lot of time to make one piece. Currently I'm thinking about making 10 pieces of Shipyard (the bigger version) as a "ready made" and after selling them take more leather and more magnets. I'm not sure with final price, but it will about $400+ for bigger model. We'll see guys, I will keep informing you how's this project going, so stay tuned.
Take care, and I wish everyone a peaceful sky overhead!
Vitalii,
Pirate Goods